Pollen Party with Babee

Everyone is buzzing about the new Microgaming Slot called Pollen Party. This slot takes players to a whole new world, with a different experience. Spin the honeycomb reels and watch as the bees work hard at collecting your sweet wins.
The base of pollen party is energetic and vibrant, full of bright colours and 2 scatter symbols that zoom down the reels of the game.
Babee Bonus, Free spins and wilds
Bees are hard workers but in their spare time they really know how to party. The free spins is where the party is and that's where new winning combinations can be found plus with 12 free spins the bees won't stop helping you collect your winnings. With the pollinator wilds on reel 3, this Wild Blooms and throws extra wilds on the reels which will create new winnings for you.
The party is not just with the free spins but also in the Babee Bonus, Pick Honey pods to reveal unique cash prizes until the pop item reveals. Bee sure to find a hidden Babee Symbol as you chose your prizes. The Babee symbol will be your bug in shining Armor and extends your gameplay plus gives you a second chance at winning.
Pollen Party keeps it sweet with:
Varied reel size for a unique game feel at 720 ways
Perfect for new players
Features 2 Scatters
This Game features wilds scatters and 720 ways to win, it is lots of fun and definitely a game for all new and existing players. These Bees don't sting you like the real ones. Babee and the fellow bees are very helpful and enjoy working hard to collect your winnings.  Enjoy the taste of the sweet life and delicious goodies on the reels. Babee and her worker bees are waiting for you!
Enjoy this sweet Jackpot and more!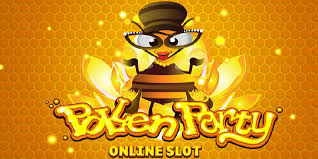 Click here to play this video slot at Royal Vegas Casino