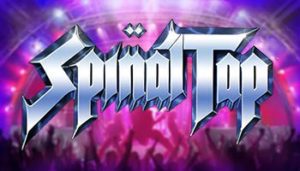 This is Spinal Tap Video Slot which is based on the comedy classic from 1984. The story is based on an American documerntary/mockumentary of the fictional British Heavy Metal Band. The documentary filmmaker follows this band on their US tour.
The film mocks the behaviour and musical pretensions of rock bands and the spiritual tendencies of rock documentaries such as Gimme Shelter (1970), The Song Remains the Same (1976) and The Last Waltz (1978). Most of the dialogue was improvised, and dozens of hours were filmed.
This is Spinal Tap received positive reviews. In 2002, it was deemed "culturally, historically, or aesthetically significant" by the Library of Congress and was selected for preservation by the United States National Film Registry.
This rock slot takes place at a concert where metallic structures and a mix of pink and purple tones surround the stage. Members of the band appear as symbols across the five reels with an option to push the volume up.
This is Spinal Tap offers 243 ways of finding a winning combination in the base game, but all of that could change when Rock Mode is triggered. The five-reel structure expands to present seven reels turning 243 ways of winning possibly into 2,187 possibilities.
This is Spinal Tap also comes with a bonus round that is closely tied to wild symbols, which can be used for substituting. A spinning turntable will start its revolutions before being stopped by a needle to determine how many extra wild symbols will be added. Included in this unusual slot is also a 11 free spin feature.