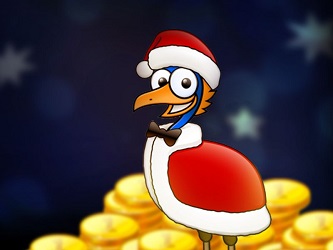 Unwrap the joys of Christmas with EmuCasino at the Gingerbread Factory. In the Snowy Mountains of the North Pole are very busy magical Elves fulfilling orders for Santa Eddy. Legend has it that these gingerbread men the little Elves are baking are imbued with North Pole Magic. So we invite you in and fill your EmuCasino Christmas stockings with yummy gingerbread men.
How to Play
1. Log into your Account or Register an Account with Emu. Click on the Christmas Special Page and chceck the daily mission for that day.
2. Once you have fulfilled that daily mission you can track your completion level. zThe Progress Bar will show as 100%.
3. Each day there is a new mission posted for you to fulfill.
4. Gifts/gifts will show on compleion of each misson at the end of the machine belt.
5. An arrow will indicate to you your Gift Box – Click on that Box to reveal a popup message that will then guide you to claim your exclusive bonus.
6. Players will be opted-in automatically to a special raffle contest when they have completed any seven (7) or more missions. Players are picked at Random in the Special Raffle contest.
There are a number of do's and dont's and t's and c's, so please remember to read all the rules and regulation along the way so as no to lose out of any Bonus.
There are 40 Prizes up for grabs, so get yourself up there among the potential winners. Your TOP 40 places will receive the following Christmas windfalls.
• First Position – $1,500
• Second Position – $1,250
• Third Position – $1,000
• Fourth Position – $800
• Fifth Position – $700
• Sixth Position – $600
• Seventh Position – $500
• Eighth Position – $400
• Ninth Position – $300
• Tenth Position $200
• Eleventh to Fifteenth Position – $100
• Sixteenth to Twentieth Position – $50
• Twenty First to Fortieth Position – 100 Free Spins
Raffle winners will be announced via email after seven (7) working days when the campaign ends.