Georgie Porgie Slots
Georgie Porgie pudding and pie, he kissed the girls and made them cry.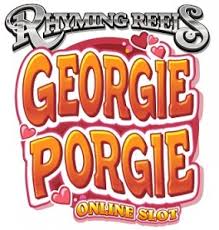 When the boys came out to play Georgie Porgie ran away.
Lets take it back a few years ago when we all enjoyed hearing Nursery Rhymes, think you remember this one? Give it a try at Platinum Play Online Casino Now by clicking here.
Microgaming has taken a Childhood Nursery Rhyme and made an awesome 5 reel, 15 pay-lines slot. In this slot you see Georgie and the kissable girls and a whole bunch of other characters from the nursery rhyme. This slot has a minimum bet of 0.01 per line and the maximum at 15 per line. There is no progressive jackpot but gamers can take a shot at winning as many as 375, 000 coins while playing in the bonus round.
You don't need to know the nursery rhyme to play this fun slot, all you need is a basic understanding of how the game works and who Georgie is.
Georgie Porgie today.
Today Georgie Porgie is a nerd with buck teeth and oversized glasses. He even has a shaggy ginger demi fro. The game is set on an America high school campus, while Georgie tries to survive another day at school without the jocks picking on him. Yet he also wants to kiss the beautiful cheerleads.
Symbols for Georgie Porgie
The main symbol is of course our sweet dweeb Georgie (a close up of him), a pair of sobbing girls (the girls he makes cry in the nursery rhyme), Jocks, the cheerleaders and another image of Georgie with his "I heart Pudding" orange T-shirt on while planting his lips on a girls cheek that's soon to start sobbing. There is a lot more the list goes on. These symbols are cute and interesting to see. I mean Georgie is now grown up and he is still making the girls cry. Microgaming even included the normal playing cards for extra symbols.
The Georgie close up is the highest paying symbol, it pays up to 15, 000 coins for getting 5 symbols in a row. 5 of Georgie kissing the girl gives you 12, 500 and getting the 2 sobbing girls 5 in a row gives you 10, 000 coins.
All wins will pay left to right excepting for the scatter symbol which will pay where ever it is.
Click here to read our Platinum Play Casino review