New video pokie from Microgaming!
Well, it's new and entertaining, it's the Piggy Fortunes Pokie!
All Slots Casino told us to prepare for some fun and how right they are! It's a cool 5-reel 25-payline pokie that borders on insane with the wolf of course trying to blow the piggy's houses down. Remember the story? There is a straw, a wood, and a brick house. Don't worry if the wolf appears next to a house and blows it down, you get paid for the agony! A wild multiplier will pay four times if the brick house falls! Now all you need is the 3 Pigs scatter to appear next to your broken house and voila, it's rebuilt and a smart free spins feature is triggered. Of course, if all three houses are blown down at the same time you are in for the biggest payouts. The biggest of all could be as much as 31,000 coins. The maximum bet here is 75 coins! I think we are in for fun.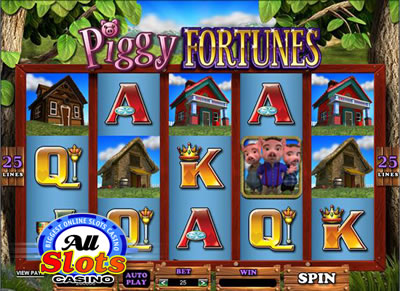 Where can I find this pokie?