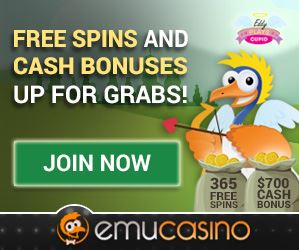 Those that have followed Eddy from Emu Casino on his Special Quest over Christmas will be happy to know that Eddy has a Valentines Day Special up and ready to play Cupid. With this Cupid however comes special thoughts and Special gifts just as you would expect on this special day that extends to the 15th February as well, giving you that extra 24 hours of fun.
On his quest to make loved ones meet this Valentine's Day, Eddy makes it his mission to save Valentines for 2 love birds. While they say that nothing can stop true love, Eddy would certainly appreciate if you helped him out on his quest and as a reward, you'll win great prizes and bonuses including free spins and cash bonuses.
Help Eddy save the day and unite two lost halves of a heart this Valentine's Day, then sit back and watch a thousand roses bloom while enjoying some amazing prizes and bonuses! This Valentine's Day is going to feature a happy ending of epic proportions as love fills the air thanks to you and Eddy!
The concept for this is Eddy trying his best to bring two love birds together. Players move Eddy around a map by playing pokie games. Players stand to win 365 Free Spins and cash bonuses worth up to $ 4315 AUD!
JOIN EDDY AT EMU FOR SOME VALENTINES FUN IN THE SUN – CLICK HERE