Sugar pop slot
This slot is for all the candy crush lovers out there, Sugar pop is just like candy crush BUT it's in slot form! This game is from betsoft gaming, this awesome game is crossed between Bejewelled and candy crush.
There are multiple bonus features as well as huge payouts. Luckily this game is available online at 7Red Casino; you can play this slot if you have Mac, Linux and windows! There is also the real money option all you do is click the red button at the bottom of the slot.
Features for players to enjoy!
A slot game with multiple levels and to win this game you need to pop the candy to do so, by lining three pieces in a horizontal or vertical line (same kind of candy must be inline). As soon as you have these three candies lined up they shatter and additional pieces take their place. If the candy lines up in 3 again the process repeats itself. Each spin gives players an opportunity to collect special candies and each of these special candies have their own unique feature. The only way to activate these special features would be to gain a winning combination.
Special feature candy info!
These are all the special features you can get if you get the winning combination to active them.
Super Colour – this happens when you get a winning combination of 4 or more candies of the same colour, which will give you SUPER COLOUR! Also if you can match the colour before your next spin you will get a multiplier.
Colour Bomb – Just like in Candy Crush you need to match 5 of the same piece of candy together. Once this happens it shatters the entire screen, all the reels will be gone!
Candy Cane – Only once you have reached level 10 you get this special feature which is only for a level 10 or up. If you land a candy cane on any of the reels, it will explode the candy in the same row and column.
Cotton Candy – Level 20 or up, you get a sweet cotton candy symbol which brings a tornado that sweeps away other symbols and helpos complete your winning combinations.  
Jelly Beans – Jelly beans are for those players that have reached at least a level 12 in the game, this special jelly bean lands anywhere on the screen and explodes causing it to explode any candy touching it. The best part is you can earn up to 5 Jelly beans.
Caramel Chew – this activates a bonus round where the caramel chews everything in its path.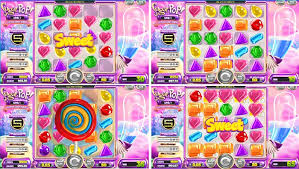 And there are a few more candy features that will bring joy to your game. This game is so exciting and fun, start eating your way through the game and enjoy all the yummy treats in store!
Click here to play at 7Red Casino today!