The all new Playboy Pokie arrives from Microgaming
Playboy, Hugh Hefner set this baby up in 1953 and it is still public property in every way! Well now, for years it was all about those magazines, stored under your bed, hidden inside your shirt, or even inside your backpack. We also saw the bunny scene on TV, how cool was that. It was all about watching though, you never did get to interact! Well, now you can! The all new Playboy Pokie from the software giant, Microgaming, has arrived and can be found at any of our recommended casinos making use of the software.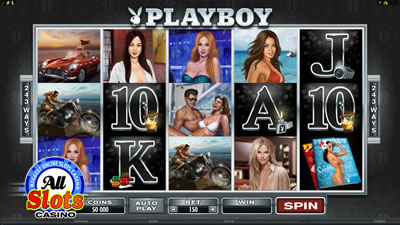 It's not only the "obvious" figures that are going to capture your imagination, some other figures will as well! You can get up to 25 free spins! You like those figures right? You also get Running Wilds and Rolling Reels! The most exciting of all though is the potential to hit the Wild Nights bonus where ALL 5 reels can go wild! This is certainly a pokie that demands respect!
It's a pokie of levels and progression. The longer you play, the more you play is rewarded as your status increases. Each round is ever better with cool looking models leading you through the levels. It all starts with Kimi (did you think there wouldn't be a Kimi with an i?). Kimi starts the bonus rounds off with 10 free spins and a 5 times multiplier. You eventually become the king of the empire though when Jillian sorts out the Wild Night bonus with 25 free spins and the potential of all the reels turning wild!
So sorry to do this to you all. It's another of those pokies you simply HAVE to play! At this rate there won't be enough hours in the day to get through our list of favourite pokies!
Where can I find this pokie?